IMPORTANT CUSTOMER NOTICE: 19th January 2021
It is with deep regret and profound sadness that I must announce the passing of my wife who died peacefully at home at the weekend. I will therefore not be taking on any remote dowsing or site visits until further notice. I will post a further update here when I am in a postion to resume my services. Thank you for your understanding.
UPDATE 6th October 2020
My wife is now back at home after being in hospital for some considerable time. At this stage I am available for remote work only, for example, locating water sources, minerals and oil & gas fields from my office, remotely using Google Earth. If you require a site visit after receiving my remote map survey report I can arrange for one of my colleagues to do the site visit using my remote map survey report when on site.

I have learned that remote map surveying can be very accurate and it is not necessary to have a site visit. The advantage of doing the remote dowsing in these instances is that you get an indication whether or not the mineral deposits you are looking for are there or not. If I don't get a response, remotely, it means there is nothing there worth exploring further. This saves time and money.

With remote water dowsing it is a bit different to remote dowsing for gas fields and mineral deposits. This is because very often the flows/sources of water are narrow, even when zoomed in on. A site visit would be recommended in that situation following a remote map survey. As mentioned previously, a remote map survey would indicate whether there were any water sources in the area and the flow and depth which would be marked out on a google earth map and sent to you together with my report. The accuracy of the location would have to be completed on site. An underground lake or a large fracture zone would not require a site visit, as such, as these would be big enough to be picked remotely. This can be seen on some of my videos on my website.

Remote dowsing for gold can also work for 'placer gold' as the deposits are wider than 'primary gold'. As you will see, from my references, where I have located gold remotely as far as California and the client has confirmed gold was there.''
GOLD
, DIAMONDS & PRECIOUS METAL
DEPOSITS
Please have a look

at the latest information ready for 2021 on

the Prospecting pages 1 & 2 to see what I believe is the world's largest

gold,

diamond

& precious metal

deposits, as yet not found.

...

p

g1

pg 2
Professional gold consultant
UPDATE FOR 2020 – MINERALS PLUS VIDEO
This is showing you the latest method of remote map surveying/dowsing that I use which improves the accuracy greatly of locating mineral deposits including gold and diamonds etc. around the world. This also includes google earth maps showing you the gold and silver locations marked out together with the depths and quantities and co-ordinates of the area. The location of the areas on the maps are in North Wales. This method of Remote map surveying/dowsing is far more accurate than the ordnance survey maps I had to rely on in the past when I worked to find gold for a gold mine company in the 1980/90s when they gave me reference for my work. Please click on the link to see further information and a video showing you how this method works .. click here......
UPDATE FOR 2019
If I do not find any gold, treasure or minerals in the area that you have requested
me to search, I may be able to offer you further alternative
locations please
click here
for further information

........
FOR THE LATEST RESEARCH ON EXPLORATION FOR PRIMARY GOLD DEPOSIT LOCATIONS WORLDWIDE – SOME CONTAINING over 100,000 ozs PLUS GLOBAL HOTS SPOTS FOR TREASURE ON THE MAINLAND which includes EGYPTIAN GOLD TREASURE AND WW2 GOLD LOCATIONS IN EUROPE, AND SPANISH SHIP WRECKS IN THE CARIBBEAN ALSO TESTIMONIALS BACKING UP MY ABILITIES TO LOCATE ALL THESE SITES."
Click
H
ere
for 2018 Latest Info
Caribbean Shipwrecks Potential Locations:-

I have found 9 shipwreck locations in the Caribbean where I have worked out not only the

location but also the potential quantities recoverable.

I have located the following:

1. Spanish shipwreck dated 1615 containing a suspected find of 19,000 gold coins, 6

gold bars and 15,000 silver coins and 25ozs of silver trinkets

.



2. Spanish shipwreck I have found dated 1691 with a suspected find of 2,150 gold

coins and 1,650 silver coins.
3. Spanish Galleon shipwreck dated 1699 with suspected 21,000ozs of gold and

25,000ozs of silver.
4. Spanish Treasure shipwreck dated 1715 with suspected 17,000ozs of gold and
21,000ozs of silver.

5. Spanish Galleon shipwreck dated 1723 with suspected 46,000ozs of gold and

14,000ozs of silver.

6. Spanish Galleon shipwreck dated 1731 with suspected 29,000ozs of gold and

9,000ozs of silver.

7. Spanish Shipwreck dated 1767 with suspected 85,000ozs of gold and 45,000ozs of

silver
.

8. Spanish shipwreck dated 1783 with suspected 36,000ozs of gold and 24,000ozs of

silver.
9. Spanish shipwreck 1783 with suspected 18,000ozs of gold and 23,000ozs of silver.

Gold Mines in Wales Updates 2017 ... click here
Updates 2016
This is the time to look for alternative ways of locating mineral deposits such as diamonds and gold than the traditional ways. My methods can locate remotely the locations and then a site visit to firm up the locations the same as I did at Clogau Gold Mine which I have proven to them my ability in locating gold which I know I can do the same for you with my method. It does not matter which part of the world you live in I can help you as you will see on the chart of the many countries I have already located new mineral sites such as gold Platinum and diamond locations which I can explore for you.
- with full references from genuine gold mine companies
Cut down the risk of failure and improve the success rate for your Company exploration professional gold consultant service.
Important message to all exploration companies large and small involved in locating precious metals such as gold, platinum, diamond deposits etc.
I have for many years been developing a method on how to locate gold, silver and other precious metals such as gold, platinum and diamond hot spot locations worldwide.
To date, THROUGH REMOTE SURVEYING as I have done at Clogau gold Mine North Wales where I found 2 gold deposits plus a gold pod containing 260 ounces of Welsh gold, by using the same method I have located 132 locations of potential gold fields and mineralised deposits around the world, such as 44 diamond fields and 10 platinum deposits. Click here to see Update 2018
28 of these gold locations are in the UK. These locations do not include what I found for Clogau Gold Mine who I helped in the 90's.
Depths and quantities can be given for these potential gold and diamond fields also platinum deposits upon request, I will be prepared to reveal the locations upon agreeing terms and conditions. These locations are separate to clients in Turkey and Canada who I have worked for and located sites for them in the past searching for gold deposits/fields.

Remote surveying of the sites includes the size and shape of each field, including structures, faults and fractures etc. Depths and quantities as well as the feasibility of the gold ore field are included. Also the diamond fields as well as platinum deposits are also included. Once the sites are located by remote surveying and it is confirmed that there are sufficient deposits to justify a site visit then the client can go ahead and get the licence and a site visit by me can be arranged which will help to confirm the map surveying results. This will help your company in saving money on licensed areas where there may not be any mineral deposits present to explore.
If you wish further confirmation of my ability in locating faults, fractures and shatter zones beneath the ground remotely and on site plus mineral deposits please see testimonials above or contact me direct.
Why choose Global Discovery?
Proven success in locating gold deposits - please see references above
Use Global Discovery in conjunction with your geologist
On site I can indicate accurately the size of the gold and precious metal deposits
Fully insured
locate the best area to drill to obtain the gold
30 years of experience - my long established company 'Global Discovery' has been quietly and efficiently finding gold for clients for years.
Ability to find alluvial and primary gold deposits.
Do not miss this great opportunity to get your site surveyed remotely for hotspots regarding mineralization zones
This will give you the edge on your competitors it will also guide you to the richest areas on your site
MY STORY OF HOW I FIRST BECAME INVOLVED WITH GOLD EXPLORATION
To find out more please click here
Clogau Gold Mine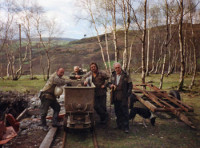 I spent over 3 years research and practicing before I was approached in 1996 by the Manager of Clogau who noticed me dowsing and invited me to the mine. Over an 18 month period I was successful in finding three separate deposits of gold for the Company.More...
As you will be well aware seismic work is very expensive and the price of gold and diamonds is now so low it is making it virtually uneconomic because of the huge costs involved in the exploration side. I can do this work, give you a guide on where the gold and diamonds will be, the depth, the quantity and the recoverability for less of the cost of the seismic. The other advantage in using my special talents is that I will be able to determine whether it is gold and diamonds or both. The seismic graphs only indicates that there is an anomaly there but it does not say what the anomaly is, whether it is water, or a large hollow cavern beneath the ground or gold and diamonds. So when drilling takes place it is still a risk of 50/50 using seismic research information even after spending millions of pounds to get that far.
Worldwide exploration for Gold
Are you considering the options of locating old gold mines anywhere in the world now that the price of gold is so high? Do you have no idea where the gold might be within the old workings? Maybe you are an existing gold mine company looking to find new exploration areas for gold and precious metals? More...
Peter also finds Oil
Take a look at Global Discovery's Oil Prospecting website for lots of interesting details More...
Take a look at Global Discovery's Water Page which includes other subjects More ...